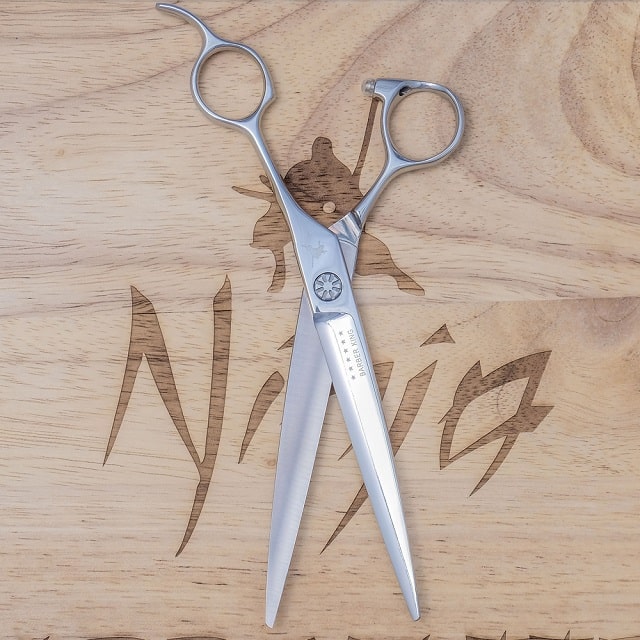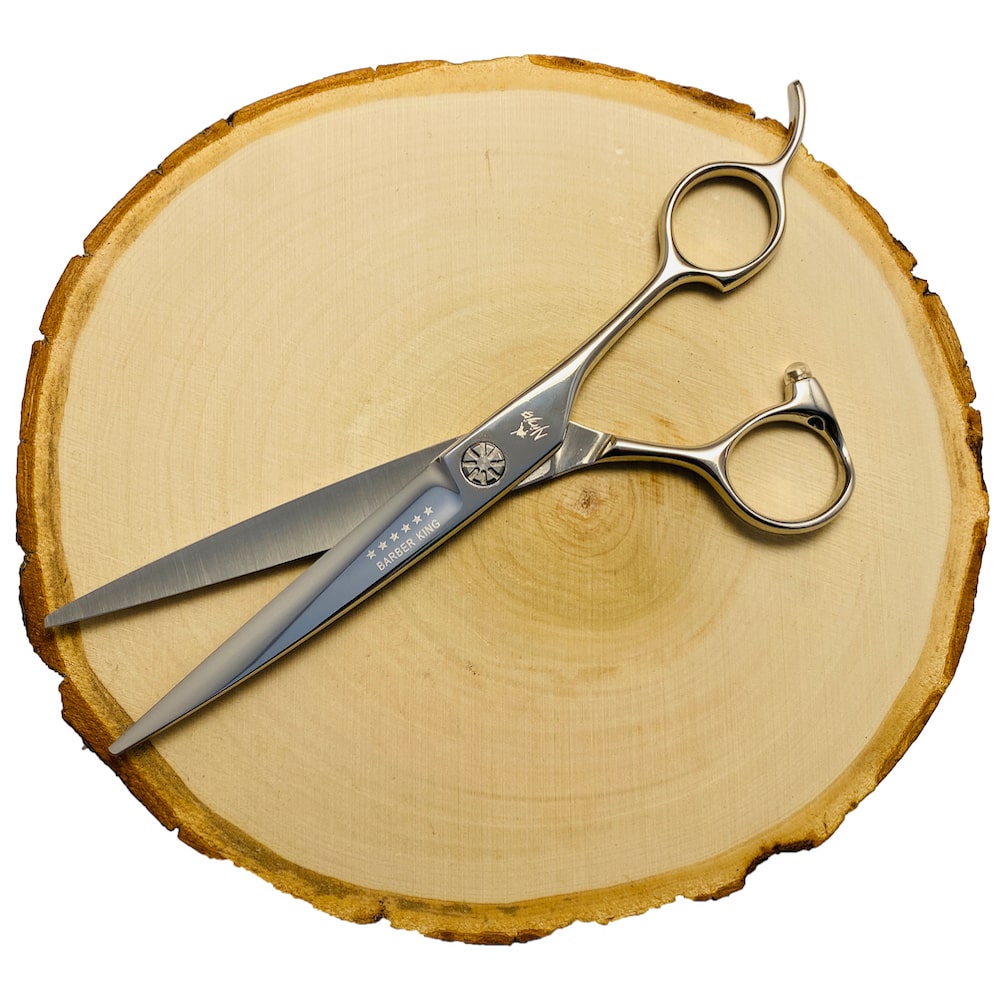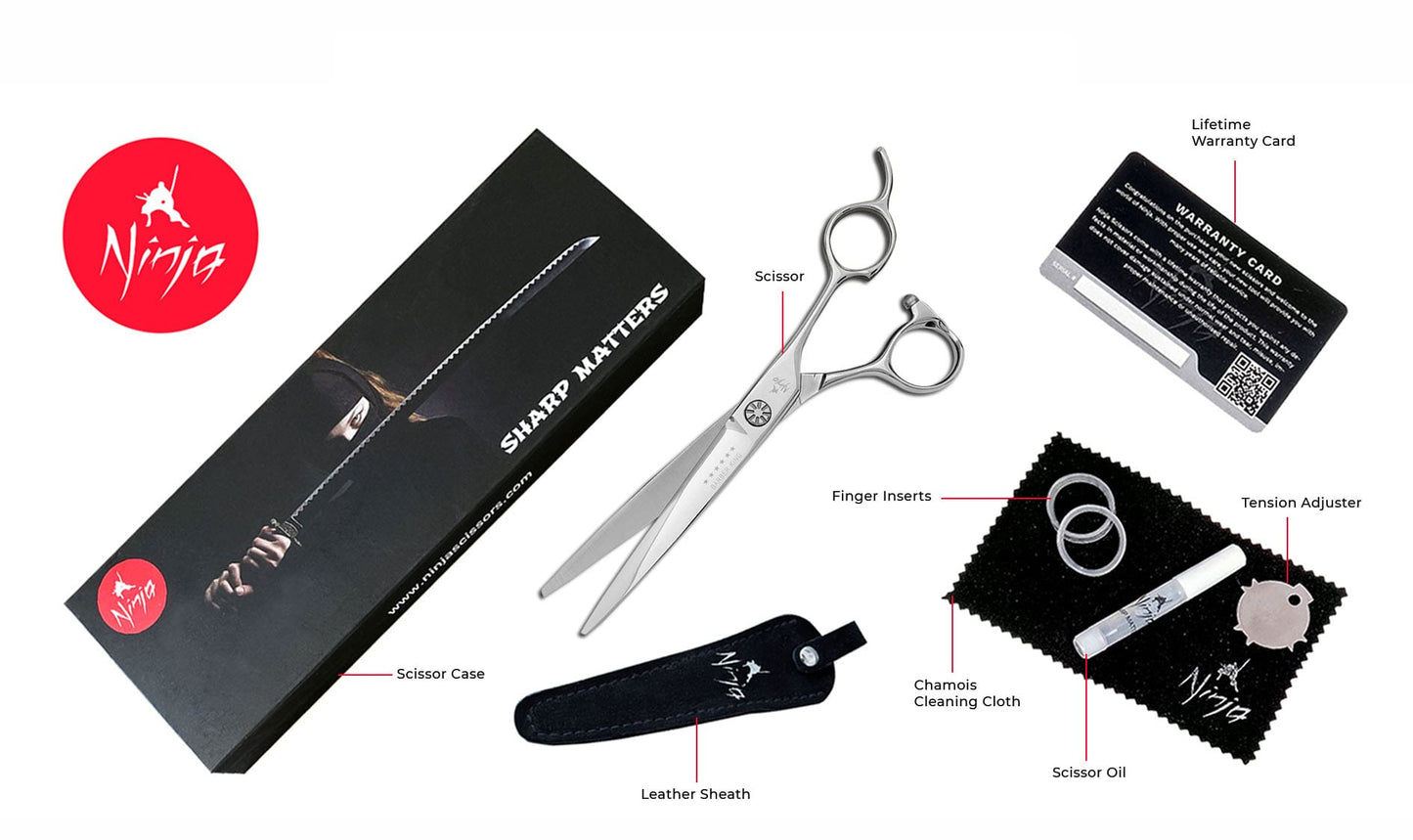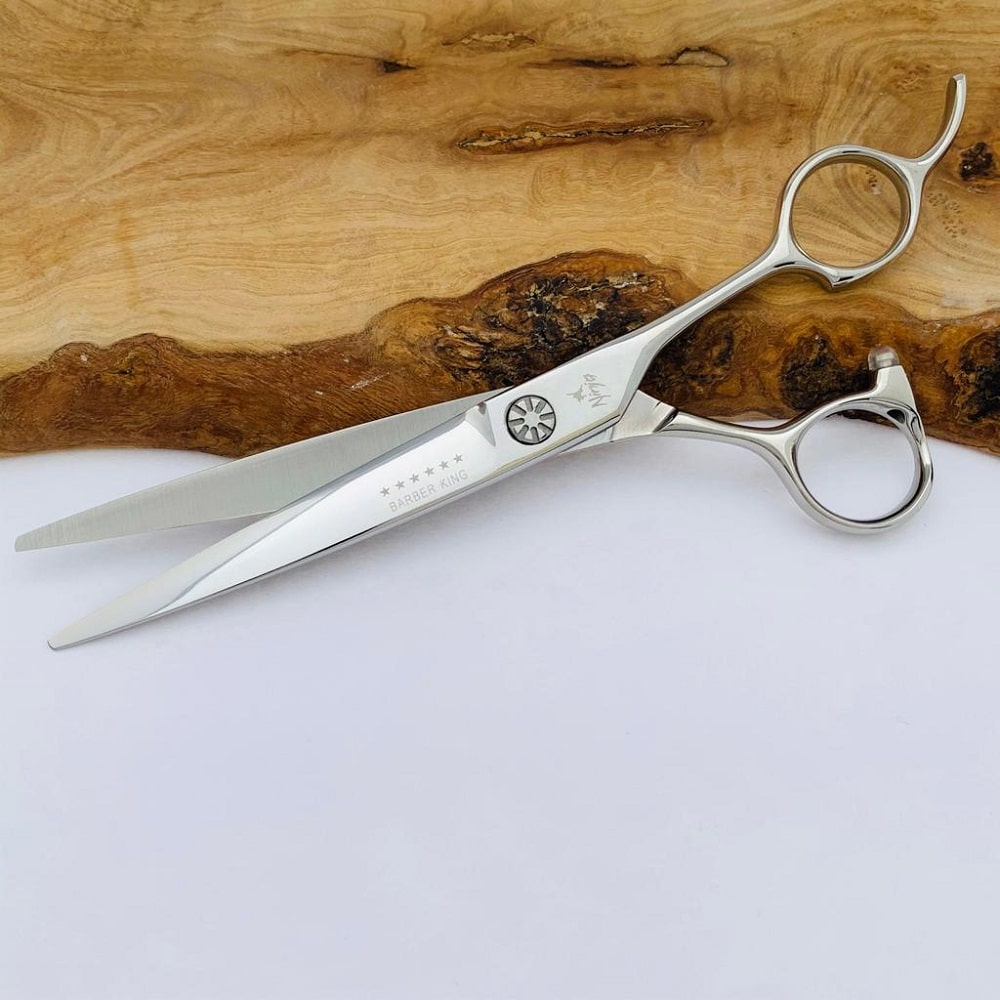 DESCRIPTION
Used by the industry's top award-winning barbers, BARBER KING is designed specifically for barbers who are looking for extreme sharpness & comfort. Handcrafted from the premium Japanese Hitachi ATS 314 Cobalt Steel for smooth cutting and durability.
This perfectly balanced barbering scissor will offer you unmatched ease of handling,
guaranteed excellence and exceptional hair cutting performance. Designed to be a powerful haircutting tool, and a joy to use.You'll fall in love with Barber King.
BLADE & CUTTING EDGE
Unparalleled Sharpness - The blades feature Ninja Hamaguri convex razor edge, hollow ground, and triple honing for the ultimate soft cuts. Barbers looking for scissors that can keep up with them, look no further than the BARBER KING.

ADJUSTABLE TENSION
Smooth & Effortless Cutting - The innovative Ball Bearing adjustable tension system reduces friction and establishes the perfect balance, providing you with luxuriously smooth and effortless cutting.
ERGONOMIC HANDLE
Enhanced Comfort & Control - Ergonomic offset handle, designed for your comfort as your thumb is working in a more natural position
WHAT'S IN THE BOX
This model comes with a leather sheath or case to protect the blades when not in use, scissor oil for the ride to ensure the cutting action stays effortless and smooth and leather cloth to keep the scissors clean and in good working order. Finger inserts are included to ensure a secure grip and perfect fit for your fingers.
LOVE OR RETURN GUARANTEE
Don't be fooled by imitators. Nothing else comes close to the quality, power & sharpness of Ninja Scissors. We guarantee you'll love it, or If for any reason you are not satisfied with your purchase, simply return it to us within 14 days of purchase for an exchange or refund.
LIFETIME WARRANTY
Ninja Scissors come with a lifetime warranty that protects you against any material or manufacturing defects during the life of the product. Any products proven to be defective upon our inspection will be repaired or replaced free of charge.
FREQUENTLY ASKED QUESTIONS
1 - What size of scissors should I buy?

Some stylists prefer short scissors, others prefer long. To some extent it depends on the type of cutting you do. The length of a scissor is measured from the very tip of the blade to the end of the longest finger hole. It doesn't include the finger rest.

To find your ideal size, place a pair of scissors on the palm of your hand with the finger hole touching the base of your thumb, the tip of the blade should be in the last section of your middle finger.
2 – How long will it take until I receive my order?

It all depends on where you are and which shipping method you choose upon checkout. On average, our customers receive their order in between 2-5 business days.
3 - How do I get my Ninja scissors sharpened and how often?

You can order your sharpening service online and send your scissor to us or one of our approved dealers, which can be found here: https://ninjascissors.com/collections/sharpening


If you are using your scissors on a regular basis, we recommend having it serviced at least once a year. However, they should be cleaned, set and balanced throughout a year even if they are still sharp.
4 - Do you ship to my country?

We ship worldwide. Please select your country at the checkout.
5 - Do I need to register my Ninja Scissors for the warranties?