SHURIKEN TEXTURE BLADES
Regular price
Sale price
$16.00
Unit price
per
Sale
Sold out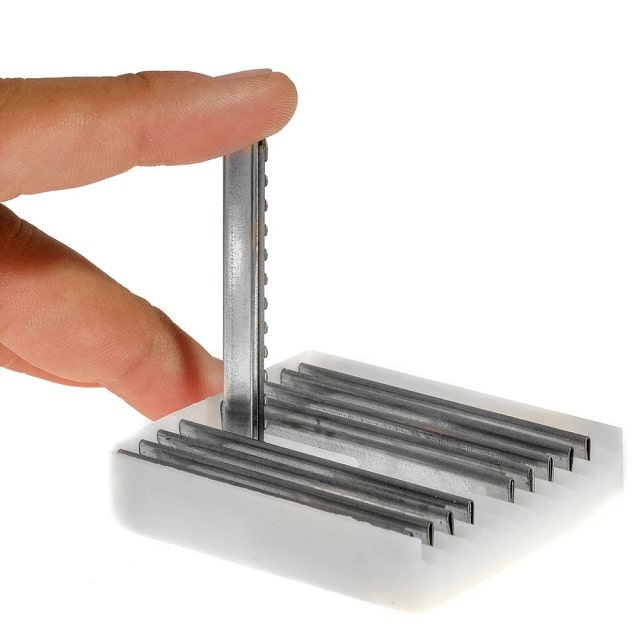 DESCRIPTION
• Perfect for textures
• Suitable for Ninja Kunai & Ninja Master Swivel Razors
• Pack of 10

Ninja Shuriken Blades can be used with any Ninja hair styling razor. The cutting edge of the blades are designed to give you the cutting control you need to be creative. The blades fit snug into the handle and do not chatter or move when cutting. Designed to cut hair in small sections to blend and texture hair.
FREQUENTLY ASKED QUESTIONS
1 - What size of scissors should I buy?

Some stylists prefer short scissors, others prefer long. To some extent it depends on the type of cutting you do. The length of a scissor is measured from the very tip of the blade to the end of the longest finger hole. It doesn't include the finger rest.

To find your ideal size, place a pair of scissors on the palm of your hand with the finger hole touching the base of your thumb, the tip of the blade should be in the last section of your middle finger.
2 – How long will it take until I receive my order?

It all depends on where you are and which shipping method you choose upon checkout. On average, our customers receive their order in between 2-5 business days.
3 - How do I get my Ninja scissors sharpened and how often?

You can order your sharpening service online and send your scissor to us or one of our approved dealers, which can be found here: https://ninjascissors.com/collections/sharpening


If you are using your scissors on a regular basis, we recommend having it serviced at least once a year. However, they should be cleaned, set and balanced throughout a year even if they are still sharp.
4 - Do you ship to my country?

We ship worldwide. Please select your country at the checkout.
5 - Do I need to register my Ninja Scissors for the warranties?